The Cromwell Museum,

Grammar School Walk,
Huntingdon
PE29 3LF
We are reopening to the public from Wednesday 19 May 2021.

Our opening hours are:

Tuesday - Saturday 11am - 4pm,
Bank Holiday Mondays 11am - 4pm
Closed Sundays and Mondays (we hope to reopen on Sundays from June)

Admission FREE

We have altered arrangements due to the Coronavirus outbreak.

Opening Times and Admissions
We are reopening to the public from Wednesday 19 May 2021.

Our opening hours are:

Tuesday - Saturday 11am - 4pm,
Bank Holiday Mondays 11am - 4pm
Closed Sundays and Mondays (we hope to reopen on Sundays from June)

Admission FREE

Due to the current Coronavirus outbreak, when the Museum is open, we have new arrangements:

We're requesting that visitors wear a face covering whilst visiting the museum. It isn't compulsory; everyone is made very welcome with or without one, but as we're a small space wearing one helps safeguard other visitors, volunteers & staff
We are limiting the number of visitors who can be inside the Museum at any one time; socially distanced queuing will be enforced outside
As with all Museums and many other institutions, we have been asked to take a contact name and telephone number or e-mail address as part of the UK Government's 'Test, Track and Trace' scheme; alternatively people can scan in with a QR code using the NHS app. We ask all visitors to help us with this
We are asking visitors to keep to the social distancing regulations, ideally 2 metres for anyone not from the same household, for the duration of their visit
Hand sanitising facilities are available at the entrance to the Museum and other key points; all visitors will be required to sanitise their hands prior to entering the Museum
The Museum will be thoroughly cleaned at the end of each day; we are also sanitising regularly used surfaces on a half hourly basis throughout the day
There is a specific route around the Museum's displays which has been clearly marked
Items which cannot be cleaned or sterilised easily (such as replica clothes for visitors to dress up in) we have unfortunately had to remove for the time being
Visitors are asked to sanitise their hands before inspecting shop stock and keep handling items to a minimum
Payment for shop stock is to be by use of contactless card, if possible
In common with many shops and outlets, we have installed a Perspex shield on our reception desk to minimise risk
Our staff and volunteers will have use of appropriate PPE as required
The Museum does not have any toilets or refreshment facilities (available nearby in Huntingdon)

More detailed procedures and a Risk Assessment are available on request - please contact us - and are on display in the Museum's foyer. We are evolving these procedures, and welcome feedback or suggestions for improvement.

As we are an independent charity we do encourage visitors to make a donation to help with our running costs.
How to find us
The Museum is located in the heart of Huntingdon town centre, just off the historic town square, across from the Town Hall and All Saints' Church. Please see the map for our location.
The closest car park is on St. Germain Street, just behind the Museum – please see the Huntingdon First map for its location. Huntingdon is just off the main A1/A14 junction and is midway between Cambridge and Peterborough by road.
We are less than 10 minutes' walk from Huntingdon Railway Station, which is on the main East Coast rail line. There are regular services from Peterborough (14 minutes by train) and London King's Cross (55 minutes by train). For train times please visit National Rail Enquiries.
We are only a couple of minutes' walk away from Huntingdon Bus Station, which has regular local bus services, and is connected by the Guided Busway to central Cambridge. Please visit the Stagecoach website for more details on the Busway timetable.

Lots of people come to see us by bicycle, if they live locally or have cycled in from a neighbouring town. There are bicycle racks for you to secure your bike to just outside the Museum on Grammar School Walk.

What to see
The Museum has a wealth of treasures to see and delight visitors of all ages: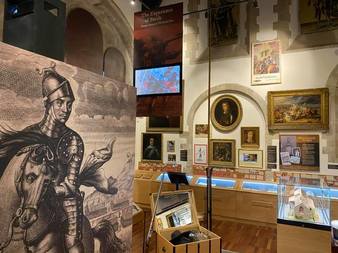 Cromwell's hat – an amazing survival is this 17th century hat, believed to have belonged to Cromwell and been worn by him when dismissing the 'Rump' Parliament. We also have a replica that you can try on!





Portraits and Paintings – we have an interesting collection of portraits of Cromwell (including the famed 'warts and all' portrait by Sir Peter Lely), his family and many other important characters from the period.



Arms and Armour – see original arms and armour from the time of the Civil Wars, including several of Cromwell's swords.
Personal items – we have astonishing personal items belonging to Cromwell and his family, including his gunpowder flask, an exquisite chest given to him as a diplomatic gift, and his medical cabinet.
Family activities – we have a number of trails and activities for our younger visitors, including replica items and costumes to handle and try on.
Access information
The Museum is accessible to wheelchairs, buggies, prams, but not to large mobility scooters. The interior of the Museum is flat, without steps, and seating is available for visitor use.
We have large print introductory guides available for visitors – please ask the steward on duty.
By prior arrangement we can arrange handling sessions for groups or individuals with visual impairments, allowing them to interact with objects and replicas in a tactile way.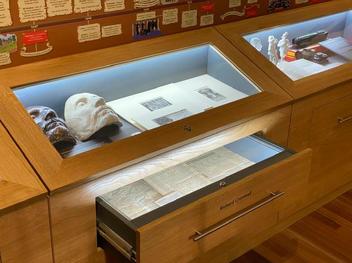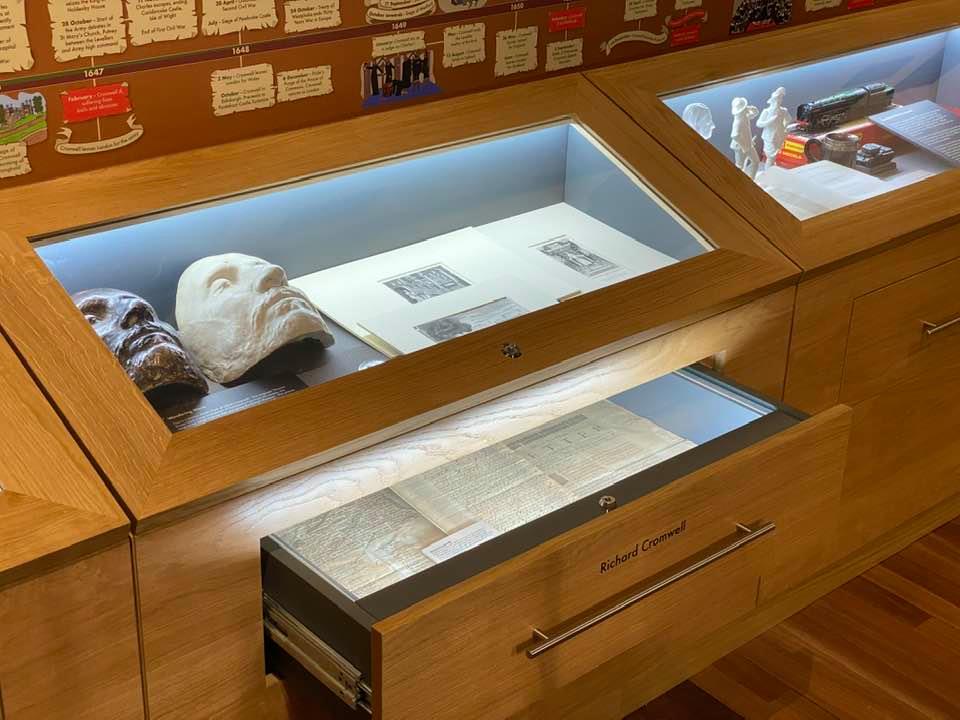 Museum Shop
The Museum has a small but well stocked gift counter, with a selection of books, souvenirs and gift ideas about or inspired by Cromwell, the 17th century and the Museum's collections. We take payment by cash, cheque and credit or debit card.