Thomas Fairfax: The Forgotten Leader
---
Thomas Fairfax led the New Model Army, who never lost a battle with him. Fairfax was forgotten because he was overshadowed by louder voices, he wasn't politically minded like Cromwell and missed events such as the Putney Debates. He still impacted the war's outcome but avoided politics so was left behind. Later, he abandoned Cromwell's ideology and assisted in the restoration of the monarchy.
Thomas was descended from a rich Yorkshire family and was born on 17 January 1612. He acquired the nickname "Black Tom" after his dark features and complexion. Fairfax started in the military in the Thirty Years War where he joined Sir Horace Vere's force in The Netherlands in 1629. Upon returning home, Fairfax was sent by Charles I to fight in Newburn which ended in disaster. Charles saw that Fairfax had potential as an adept military leader so knighted him for his bravery.
The Civil War: A turning point for Fairfax
As war broke out in England, Thomas and his father joined the Parliamentarians. His father was appointed General of the North with Fairfax becoming a general under him. Small battles were won by the duo but throughout Thomas showed few extraordinary military capabilities. This changed when he became known for the wrong reasons, when he met a small group of royalists just outside Seacroft, England. He was forced to retreat and later stated that it was the "greatest loss we ever received."
This tarnished Thomas Fairfax's name. Over the next few years, the tides would turn as his strategic mind would win the war for Parliament.
What impact did Thomas have on the war?
In 1645 Fairfax was selected as Lord General of the New Model Army with Oliver Cromwell chosen as Cavalry Commander. At the Battle of Naseby in 1645 Thomas led the Parliamentarians to a decisive victory which ended the war. However Cromwell is thought of as leading the war because of his later political involvements which garnered him fame.
Fairfax left the army in 1650 after conflicting with Cromwell's ideology and returned to his family home, Nunappleton, where his daughter married the Duke of Buckingham, a known royalist. This infuriated Cromwell and he arrested Buckingham forcing Fairfax to pay for his release. Thomas then distracted the army in the north so George Monck could travel safely to London to persuade Parliament to reinstate the monarchy. Fairfix retired in 1660 and was wheelchair-bound from injuries sustained in battle. He died on 12 November 1671.
When Fairfax started, Charles I saw promise saying "The general is a man of honour and keeps his word". Many thought Fairfax was to go far, but they oversighted his lack of political power which led to his voice being buried.
Written by George Hall, Year 10 Work Placement, 2022.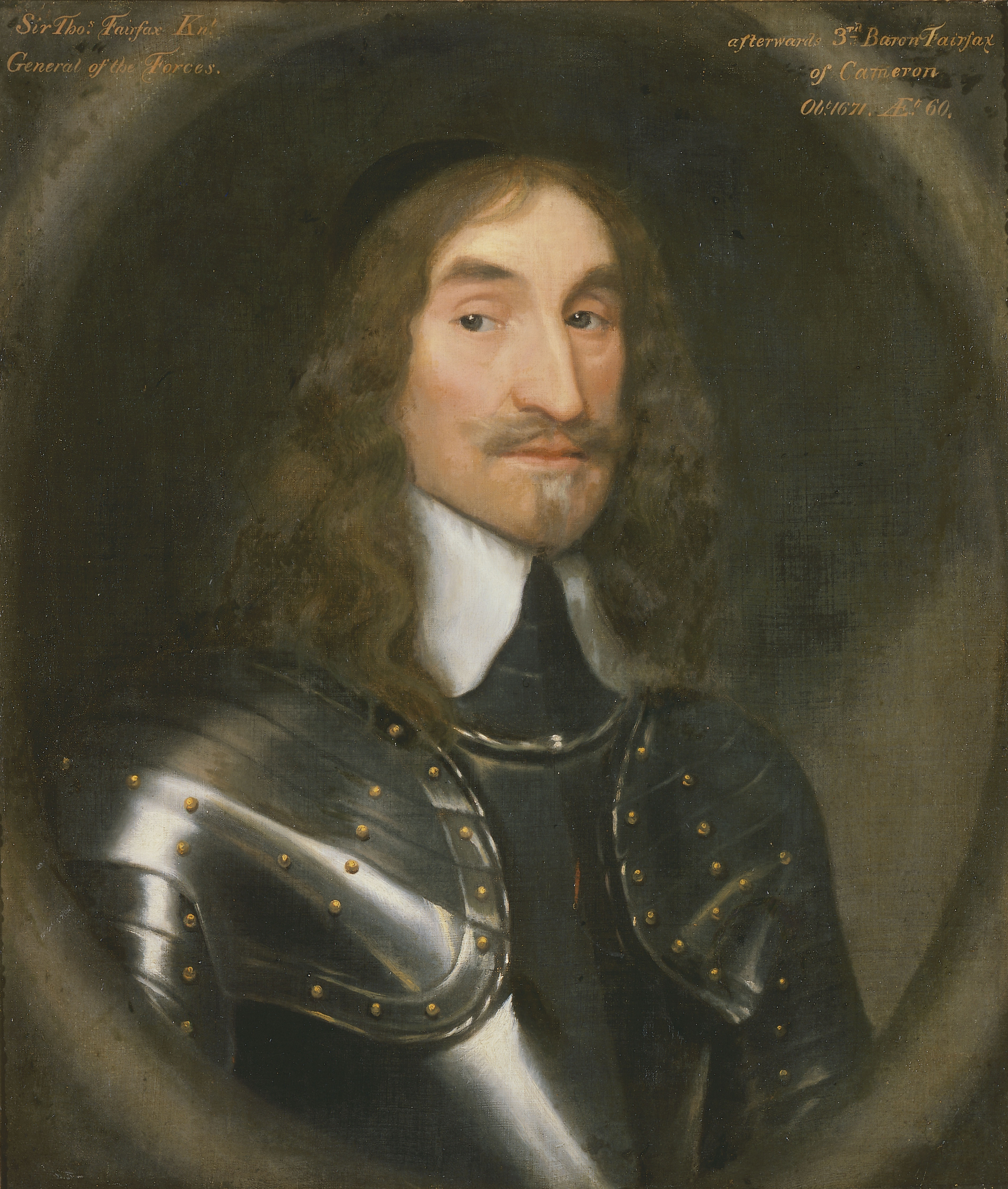 Painting of Fairfax after being appointed General of the New Model Army in 1645. By Robert Walker.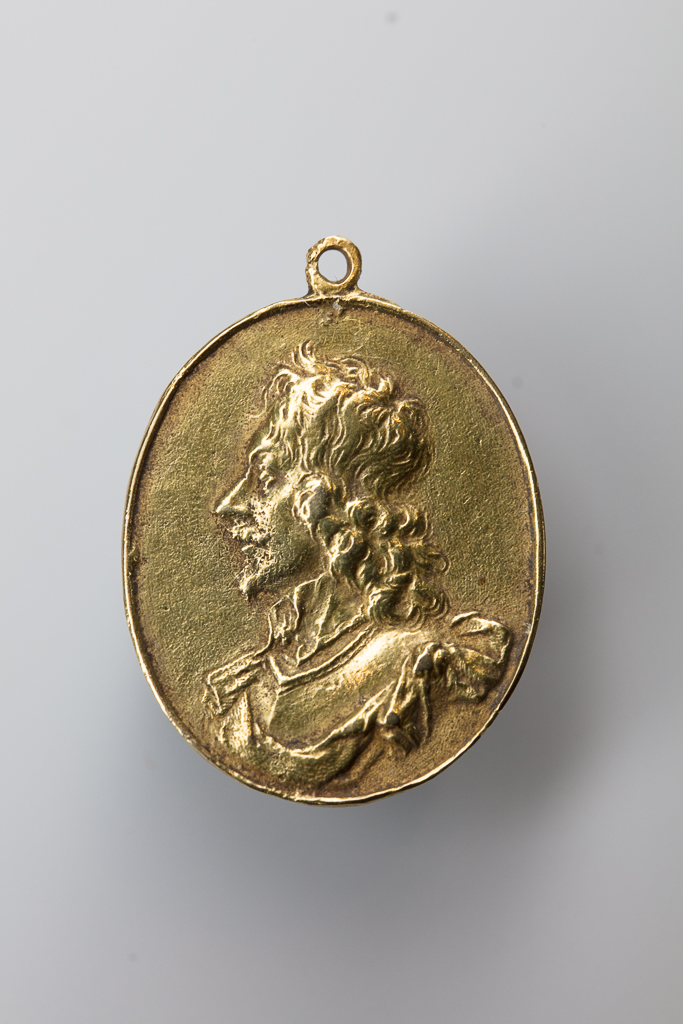 Gold medal Thomas received at the Battle of Naseby in 1645 for his planning and leadership skills.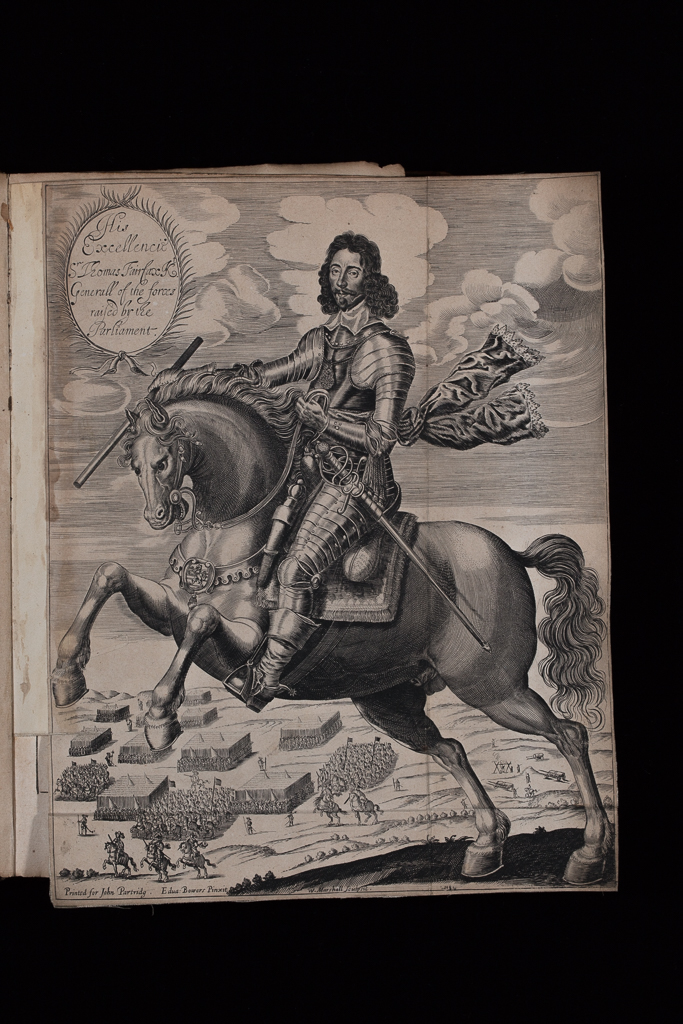 Illustration depicting Thomas Fairfax on his horse leading the New Model Army.